X : 10 LITER INTUITIVE TRAIL RUNNING VEST
The X achieves increased storage capacity while remaining ultra-compact, breathable, and with minimal body contact.
Its unique design follows one of Instinct's main goals; to access with the greatest ease, all essentials without ever removing your vest while running.
High sitting, the X offers remarkable comfort, stability, and liberty of movement.
Whether it be water bladder, bottles, or soft flasks, the choice is yours.
Optimal positioning of pockets & adjustments allows for natural, effortless & intuitive access.
Its shoulder straps offer unique storage for all/any possible feed, hydration, and storage desired. Securely and immediately store your smartphone in one of two extra-large zipped pockets.
Lightweight & breathable honeycomb mesh ensures ventilation and sweat dissipation without sacrificing strength or reliability.
Adjustable front sternum straps and our unique refined side elastic lacing system allow for a custom fit to almost any body type.
Discover stability, liberty of movement and unconstrained breathing.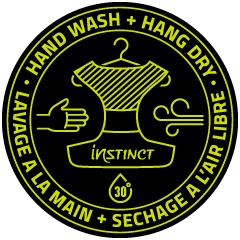 FRONTAL SOLUTIONS
2 x 650ml hydration pockets + elastic compression cords with auto lock. High sitting for immediate & effortless access.
2 x 500ml feed storage pockets.
2 XL zippered pockets for easy access storage of smartphone or important objects.
1 x 150ml zipped shoulder pocket + non-stretch internal cord ring + whistle. For safety essentials and more …
DORSAL SOLUTIONS
1 x 800ml top horizontal pocket + elastic compression cord with auto lock. Easily access your rain gear right from the first drop without removing bag!
2 x bottom horizontal pockets. Central access to safety kit, headlamp(s), gloves, arm warmers …. and more
1 x side access pocket for quick storage of gloves, rain pants, headlamp or rain vest.
1 vertical top access pocket with closing buckle + velcro strap. 1.5L water bladder compatible.
1 main 4 liter "U-shaped" zippered pocket compartiment for large & quick storage in any situation.
POLE SOLUTIONS and more
3 carrying options. Front : vertically right & left // Back : horizontally or vertically.
ADJUSTMENTS & FIT
2 adjustable chest straps mounted on 20 cm sliders = custom fit vertically and horizontally.
2 double "S" elastic cross-lacing with auto lock: "on the fly" side adjustment!
3 elastic compression cords with auto lock for top and bottom back pockets.