EKLIPSE : 12 LITER INTUITIVE TRAIL RUNNING VEST
The confidence to go further!
Extreme functionality, accessibility & protection.
No matter the distance or conditions, the EKLIPSE offers extreme function, unconstrained breathing & a fit so natural
that it's forgotten.
High sitting, the EKLIPSE allows immediate & easy access to hydration, feed, poles & adjustments.
Adjustable front sternum straps and our unique elastic side lacing system allow for a custom fit to almost any body type.
Discover stability, liberty of movement, immediate access to storage and unconstrained breathing.
Optimal positioning of pockets & adjustments for natural, effortless & intuitive access.
Lightweight & breathable 3D honeycomb mesh ensures ventilation and sweat dissipation without sacrificing strength or reliability.
Its unique back compartment is a 360° water resistant flexible shell.
With an ingenious wide angled "door," discover immediate access, exceptional storage & organization for:
Trail, Ultra-Trail & XL distance
Adventure Racing
Fast & Light outings
Day / weekend trekking, …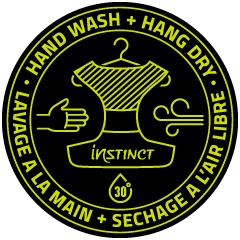 FRONTAL SOLUTIONS
2 x 650ml hydration pockets + elastic compression cords with auto lock. Sits high for immediate and effortless access.
2 x 600ml feed storage pockets + internal elastic cord: extra large storage & easy access (right side: +1 hidden pocket +1 overlaying pocket // left side: +1 hidden smartphone pocket)
2 x 150ml zipped shoulder pockets + non-stretch internal cord ring + whistle. For safety essentials and more …
DORSAL SOLUTIONS
1 x 1.5L top horizontal pocket + elastic compression cords with auto lock. Easily access rain gear right from the first drop without removing bag!
1 x 2.0L water resistant* zipped vertical pocket. Water bladder compatible, top entry + Velcro strap.
1 x 3.7L water resistant* zipped main storage door. 5 internal mesh compartments.1 direct access zipped overlaying pocket.
*100% 30D Nylon 6.6 Cordura® ripstop + silicone liner: extremely light & incredibly resistant. 360° water resistant. Waterproof zippers.
2 overlaying bottom horizontal pockets totalling 1.5L + elastic compression cords with auto lock. Upper pocket with unique hook fixtures: easy entry.
Lower pocket accessible without removing bag. Left or right entry.
POLE SOLUTIONS and more
4 pole attachment solutions. Front : vertically right & left // Back : horizontally, vertically or diagonally.
Various points of attachment offer the opportunity to secure larger items on the outside (sleeping pad & bag, compact tent, helmet, …)
ADJUSTMENTS & FIT
2 adjustable chest straps mounted on 20 cm sliders = custom fit vertically and horizontally.
2 double "S" elastic cross-lacing with auto lock: "on the fly" side adjustment!
3 elastic compression cords with auto lock for top and bottom back pockets.