At the end of a day of hiking, pull off your heavy, stiff, boots and slip into the freedom, comfort, and flexibility of the Z-Trail… they're so light you'll barely notice them on your feet (and will barely tell they were in your bag!).
Enjoy a run, on trails or roads, with the right amount of protection, and lightweight flexibility that'll make you feel like you're practically barefoot.
Yoga class? Well, the grippy soles make the Z-Trail like having a yoga mat on your feet all the time. Do your own class anywhere you are!
Head downstream… whether you're in a canoe, a kayak, or a raft, the Z-Trail holds comfortably on your feet, and they float!
Take a walk — anywhere you like, from a mountain trail to an urban jungle. The comfort of the Z-Trail will surprise you.
What makes the Z-Trail special is the 3-layer FeelLite™ sole.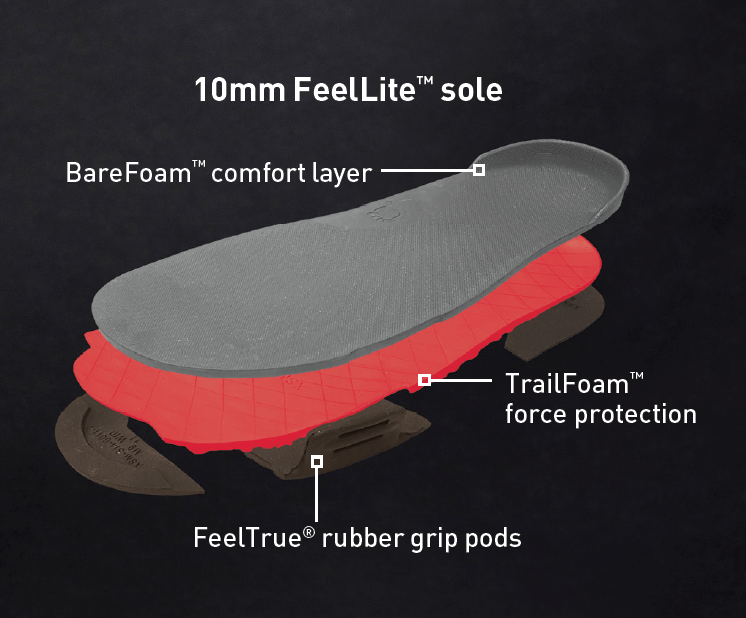 The bottom has our FeelTrue® rubber for great grip and abrasion resistance.
The middle layer of TrailFoam™ provides an incredible amount of force absorption and protection.
Then, the top BareFoam™ layer adds a perfect amount of comfort.
And the FeelLite™ sole still maintains enough flexibility to allow for natural movement and ground-feel.